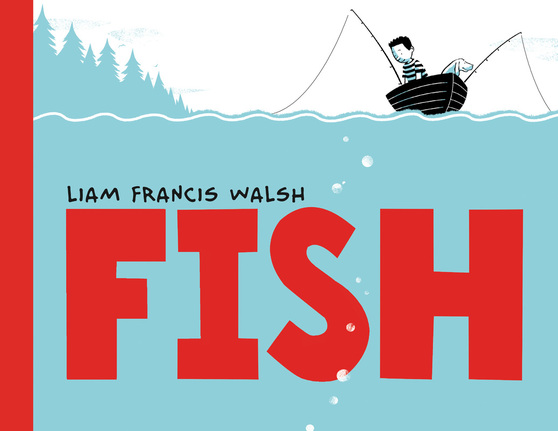 "A full-bodied story with an economy of style."
-Kirkus, starred review
"... A deliciously retro style ... Walsh's graphic skills and visual storytelling are highly polished. It's a promising first outing."
-
Publisher's Weekly
---
FISH
is now available from your favorite bookstore, and on
Amazon
!
If you liked FISH, drop me a line and let me know. If you want a signed sticker for your copy, I can hook you up. Thanks for reading!
More stuff about FISH:
Here's an interview
I did for Kirkus Reviews.
And
another
for The Dunn County News.
---
The Story of FISH:



FISH began life as a scheme to encourage my nephew (a reluctant reader, but enthusiastic fisherman) to read. Above, you can see the original idea, hastily scrawled on a scrap of lined paper. The final story is basically there already, but there isn't much to it: it's too direct, too literal, too repetitive and predictable. I drew and redrew the story in thumbnail form, adding stuff, subtracting stuff, following trails that led nowhere, doubling back and trying a new path, until I hit on a good story. I used to think what a writer did was find the right story. Now I know an idea can contain many different stories. If you wrote about a boy fishing for letters, I bet your story would be completely different; I didn't find the right story, I found my story.
---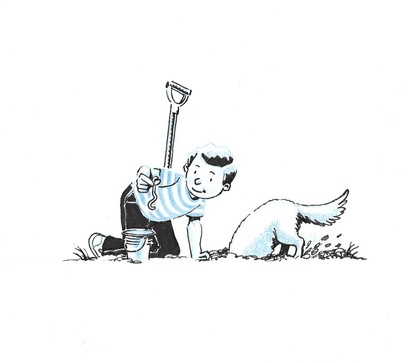 When I started drawing FISH I first sketched in non-photo blue pencil, a technique that saves you having to erase your pencil lines before scanning. I liked the way the blue looked with the black ink so much I decided to do the art in two colors. (Which became three colors when I added red for the letters.)
---
I experimented with art techniques as I worked on the story: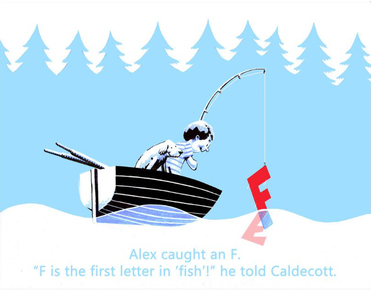 At one point I actually drew up a pretty finished version of the whole book, before scrapping it and starting over. Not the most efficient way to work, perhaps, but the effort wasn't wasted: sometimes going the wrong way helps you figure out the right way.
---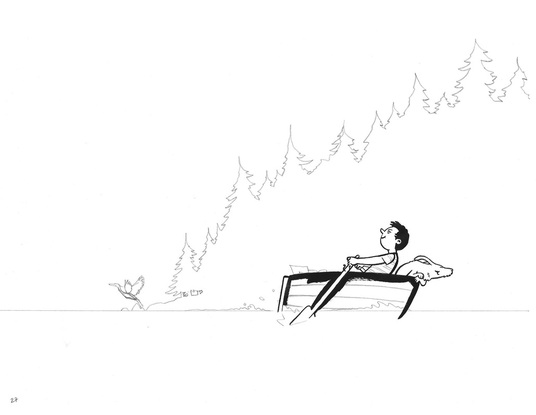 After revising the story many times, with the help of friends, my agent, and my editor, I drew the finished artwork with a sable brush and ink. I scanned that into my computer, and added color in Photoshop.
---
All finished!